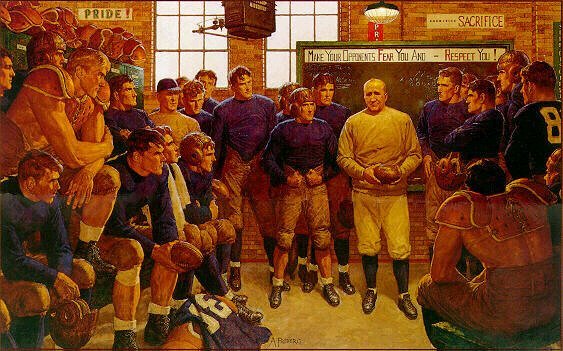 C'mon Team! You know what you've got to do!
The only ones that can beat us are you and you and you.
The secret is in your practice because that's the way you'll play;
Commit well your mind and body and you'll shine this Saturday.
Forget every game you've ever lost or ever won before;
What's done is done and the past is passed, we cannot change the score.
Your teammate needs your encouragement now; he doesn't need your blame;
'Cause he's the guy beside you when it's time to play the game.
There's more to pride than winning, more to character than cheers;
It's putting yourself on the line and playing in spite of your fears.
Give your hand to your teammate; look him squarely in the eye;
Tell him that you won't let him down, that you'll never fail to try.
This is your time together; you're the only ones playing these games;
Everyone else is on the sidelines; who's going to remember their names?
But you will never forget one another, not for as long as you shall live.
Will your teammates say about you, "He gave all that he could give!"?